Lotus elite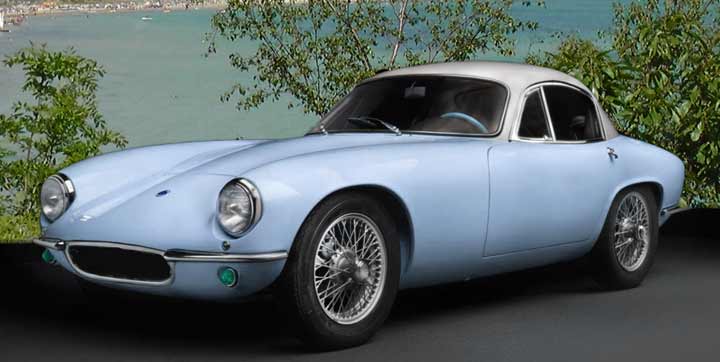 Colin Chapman was a racing man. Yes, his company did sell road cars, but to him they were merely a means to an end. They raised money which enabled him to keep racing, and improving his racing cars.

One of the most innovative designers of the day, he was never afraid to make radical changes and go against prevailing beliefs. In an age when engines were getting bigger and more powerful, he argued that the way to sporting success was to make cars lighter, so that smaller and less bulky engines could still do the job. His knowledge of aerodynamics helped him to not only create car bodies that were efficient at cutting through the air, but which were beautiful to look at, too.

The Elite, which encompassed all of his beliefs, was first displayed at the motor show at Earls Court in 1957. It caused a sensation. The fibreglass monocoque body, bonded to a steel subframe and front suspension, was ultralightweight, stiff and, it was claimed, offered better protection to occupants in the event of a collision. There was independent suspension all-round, with Chapman struts to the rear.

Power came from an all aluminium Coventry Climax 1216cc straight 4 FWE engine; which was originally developed for a fireman's pump; and in the early days it developed a meagre 75 brake horsepower. However, the car, including the engine, was so light that it was capable of 110 mph. Yes, it was a road car but racing drivers developed a keen interest in it; Ian Walker not only won the first 1958 race at Silverstone with one but also set a new lap record. This was despite the fact that he had had to make a makeshift repair by hammering a horseshoe nail into the steering column on the way to the race!

He repeated the same feat the following day at Mallory Park, with the horseshoe nail still in place.

The following year another Elite came first in the 1500 cc class in the Le Mans 24 hours race. This was the first one of no less than six class successes in this race.

Manufacturing this car was no easy task because much of the work had to be done by hand. Such a labour-intensive production method is expensive; and although 1050 Elites were created up until 1963, every single one of them lost money. Was Chapman concerned by this? Or was he just satisfied by the fact that he had produced such a wonderful machine, which was raced by not only himself but such other top racing drivers as Les Leston and Jim Clark?