Lea-francis 14HP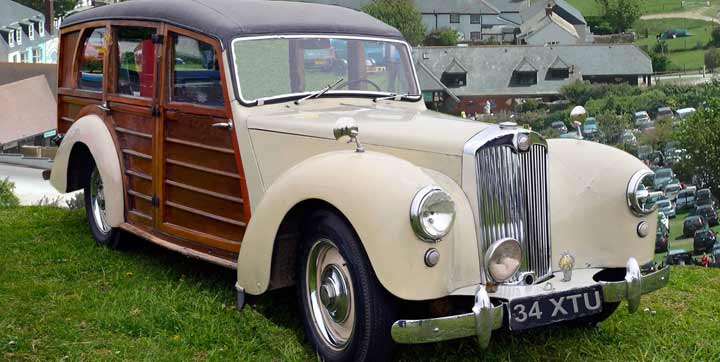 It has become a familiar story. An engineering company starts up before the First World War, manufactures some pretty reasonable cars and achieves some racing success between the wars, switches to manufacturing military vehicles, then comes out of the Second World War with a skilled workforce but empty order book; goes into car manufacture but ultimately goes broke. Yes, it happened to Lea –Francis too.

Their origins were in Coventry where they started by building two wheeled vehicles in 1895. This led to building cars under licence, and then from 1919, after a spell of MOD work, they started assembling cars from bought-in components. Sporting success along with technical innovation followed; they even produced the first British supercharged production car, the Hyper, and in 1928 they won the Ulster TT race with one. Financial difficulties, however were always on the horizon. Insolvency in 1937 meant a completely new company had to be formed; manufacture was switched to essential war work, and by 1945 they were ready to re-start building cars, but this time with a little more money in the bank.

Their products were luxurious, albeit expensive, using mainly updated pre-war technology.

By 1946 they were building their 14HP saloon; this was available either as a finished car or as a bare chassis, for coach building companies to finish off. A large proportion of them were made into what we now call estate cars, similar to one in the photograph, which were then called shooting brakes. There was a good reason for this; the government classified these as commercial vehicles, and as such they were exempt from purchase tax, which was quite heavy on private cars.

Also in production was their absolutely gorgeous sports car; this featured a twin carburettor engine which was tuned up to put out 85 brake horsepower. A larger 2.5 litre engine, producing 105 brake horsepower, was introduced in 1949 and this enabled the roadster to reach in excess of 100 mph.

A combination of good performance, steadily improved design, a versatile chassis which could take anything from a high-powered sports car to a shooting brake, should have ensured financial success. However, they were still undercapitalised. Building cars on a small scale has never really been profitable; and financial problems resurfaced. The last chassis was produced in 1952; the company itself staggered on for a further 10 years before finally going out of business.