AC Cobra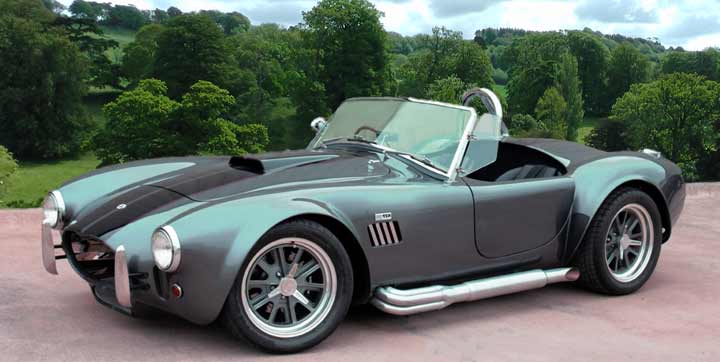 The AC Cobra had a very unusual beginning. It had an unusual ending too. After being a commercial failure it went on to be the most copied car in history!

The American Carrol Shelby had a very chequered career, which included being a chicken farmer, a World War II flight instructor and test pilot, an oil well worker and then a racing driver. He was very successful at this, setting up several international speed records along the way. He had a burning ambition; to create the ultimate racing car.

He reckoned that that many European cars had superb bodywork but lacked engine power. Conversely, American engines tended to be big and powerful, but the cars themselves were too heavy and simply didn't steer and handle as well as he wanted them to. He concludes that a marriage between an American V8 and a lightweight European body would give maximum performance both in power and handling.

Unfortunately, it takes a huge fortune to start manufacturing cars. So, he decided to look around for a suitable ready made body and an equally ready-made engine.

AC at the time was manufacturing their successful AC Ace, which was equipped with a six cylinder engine, but it was starting to come to the end of it's time. He asked them if they would modify the bodywork to take a V8 engine; they agreed provided that he could find a suitable one.

He first approached Austin Healey; they were not interested. Chevrolet was his next port of call; but they didn't fancy anyone creating a rival to their Corvette. He finally had more success with Ford; as true businessmen they would be quite happy about helping a successful Chevrolet Corvette competitor, whilst also selling a few engines; and they had a brand new lightweight 3.6 litre (later to grow to 4.3 litre) V8 to sell. The marriage was made.

Between 1962 and 1967 AC shipped the cars, less engines and gearboxes, over to Shelby's factory in California, where the Ford engines and transmission were fitted. They were not spectacularly successful in racing, but the car's profile was given a huge boost when a pop group, the Rip Chords, issued a record called Hey Little Cobra (you can listen to a recording of it here!

Despite numerous improvements, including the 1965 introduction of a seven litre variant, it was not a huge commercial success. AC themselves continued producing a few until 1969, but by then popularity had waned and they turned their attention to other projects.

That was certainly not the end of it though.

The Cobra was undeniably a beautiful and powerful car. It was also pretty easy car to replicate, since the bodywork had been designed to take as large a number of different powerful engines as possible. It was not long before there were far more replicas on the market than originals; of which less than 1000 have been sold. More than that number are believed to be made in replica form every year now, and finding a genuine Carroll or AC Cobra is a very difficult task indeed!